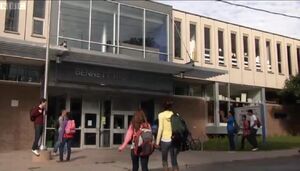 Bennett High is the name of the school where majority of Wingin' It's characters either work or attend school.
They have a soccer, football, netball, baseball, basketball, soccer baseball, rugby, volleyball, wrestling, ball hockey, field hockey and badmition teams.
Bennett High also have a range of after and during school clubs. They include orogarmi, hidtory, etc, etc.
Students
Teachers
Events
A school dance-a-thon turned into a world record attempt where Carl Montclaire broke the record for longest time spent dancing (Friday Afternoon Fever),
Jane Casey wrote "The Sour Milkman".
its implied the students and faculty miners Denise, porter and Dr CassabI inherited parts of the school in a will since there family members and even the facu members have had assigned seats for generations.Implying that there ancestors helped build the school. this is also implies that everyone besides the angles legally own the school together.